JOHNSON MORETTI IN SWITCHBACK'S "OPERA WINDFALL"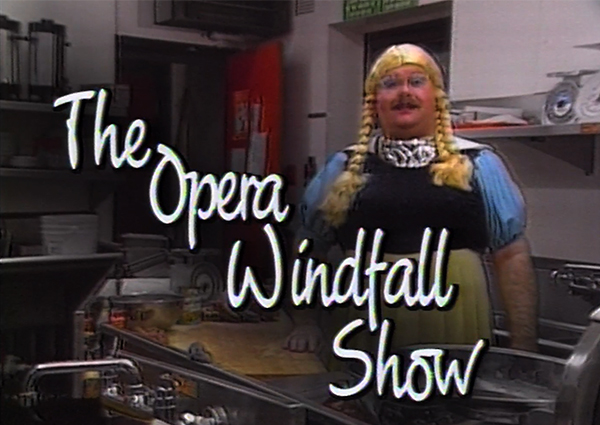 TOM AZIZ ON THE LATE AND GREAT JOHNSON MORETTI
Johnson Moretti was a native of Hornell, New York. He moved to Ottawa in 1982, and became an organizer and referee with the Ottawa Improv Games. Executive producer Janet Evans was at the final and saw Johnson performing in front of a sell-out crowd at the National Arts Center in Ottawa. She immediately hired him as the new host of Switchback.
The 1987 crew of Switchback was CBC Ottawa's renegades; management never knew what we were going to do next – in fact neither did we! Skits became our passion, and Johnson's brilliance as an improv artist made executing his ideas usually result in mayhem. One thing was clear: Johnson was at his happiest while dancing as a prima ballerina on Parliament Hill, or playing a chubby superhero in long underwear. As for me, it was the most fun I had in my TV career.
CBC'S SWITCHBACK
During his tenure as host of Switchback Johnson Moretti created dozens of characters, including Cancoo, Captain Mumble, Detective Lance Loserman, wrestler Dirty DanDruff, the Scaredresser Hairdresser, Coach Dipstick and his greatest of all time, Madame Opera. As you will see, all of Johnson's characters were preoccupied with food, which became a relentless theme in everything we did. And Madame Opera took it one step further.
MADAME OPERA WINDFALL
Johnson came to me with this idea to do a spoof of the Oprah Winfrey Show. He wanted to have "Opera Windfall" hosting a cooking segment where Chicken Joe Louis was on the menu. As you will see, the character bears no resemblance to Oprah Winfrey, but rather a hybrid of Julia Child, Martha Stewart and a large transvestite Viking woman.  I particularly like the eyelashes.  As for the Chicken Joe Louis… watch and see! I can say Johnson really ate the stuffing!
REMEMBERING JOHNSON MORETTI
To this day I look at of these skits and still can't decide if they are brilliant or just stupid. I suppose it is a bit of both. Ok, maybe more stupid!
Johnson passed away at the young age of 43 in 1999. The characters he created on Switchback have been sitting on the shelf for almost thirty years, and I felt it was time to share his insane brilliance.