SWITCHBACK'S JOHNSON MORETTI BALLET DANCING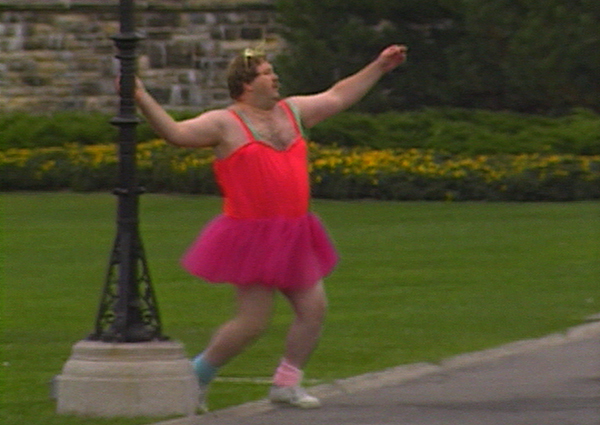 THE FEARLESS JOHNSON MORETTI
There is a saying comedians use when describing a performance: fearless. It can mean many things, mostly not being afraid to fail. In Johnson Moretti's case, it was that he had no fear of making a fool of himself.  And his ballet dancing on Parliament Hill in Ottawa is the perfect example of fearless, Moretti style.
SWITCHBACK'S BALLET ON PARLIAMENT HILL
In my two seasons on Switchback we had a small budget, so when we needed a location the front of the Peace Tower was usually our first choice. Johnson always loved playing the fool so when he said he wanted to dance in a pink tutu, Parliament Hill was the natural choice. With a boom box and cassette in hand, we headed out. Security was never an issue back in 1988, the RCMP just snickered, today we would likely be arrested. With all of Johnson's improv, you only get one take. As the performance we called Swine Lake began, the crew was amazed at how passersby did not even acknowledge the rotund man in a tutu. It was one of the most popular skits we ever did and I still think it is as funny today. Have a chuckle with Johnson!