JOHNSON MORETTI AS "CANCOO" ON SWITCHBACK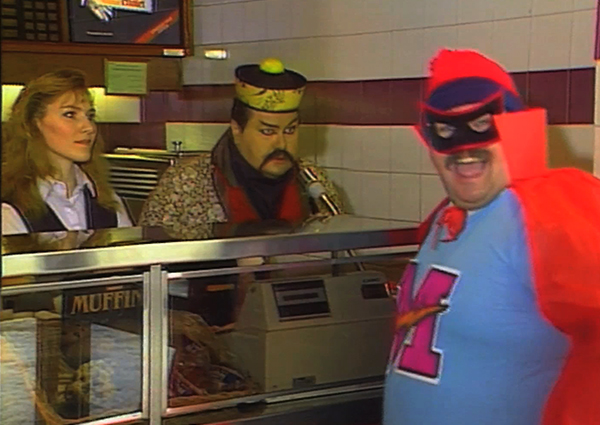 SWITCHBACK'S "CANCOO GETS A JOB"
During his time as host of Switchback, Johnson Moretti created dozens of characters. Two of his best characters are Cancoo the Evil Master of the Universe, whose passion for world domination is only rivaled by his passion for junk food, and Super Hero Captain Mumble, a tribute to the Dick Tracy comic strip. At this point things are not going well for Cancoo – as usual he is short on funds for his plans of world domination.
CANCOO AND MUMBLE
Johnson Moretti wanted to do a series of skits where Cancoo was forced to take part time jobs to support his evil empire. Everything from taxi driver, pizza twirler, used car salesman and finally as a burger flipper. All it took was Switchback researcher Dorothy Dickie's call to the local Harvey's for permission to shoot there and let the mayhem begin. Cancoo and Godzilla were behind the counter, and Captain Mumble was the hungry customer. We used split screens to allow Johnson to play both roles. It was a guerilla style production using the public as unsuspecting extras. Johnson was fearless as he looked in cameraman Tom Sharina's eyes and said "Be ready…I am only going to be able to do this once." Next was the epic battle between Captain Mumble and Godzilla.
PUBLIC'S REACTION TO THE SKITS
Many people believed the skit was racist. The character was eventually pulled because of one letter an angry viewer sent us. At its worst the character was politically incorrect and silly. Johnson and the crew just hoped to make people laugh. And how could a two hundred and forty pound man in Zellers blue underwear, on a slush-covered Harvey's floor, wrestling a fifty dollar inflatable monster not be funny? Well our boss didn't find it funny at all. Watch and let us know who you agree with!