DONOHUE'S LEGENDS: WAYNE GRETZKY
"MY FRIENDS CALL ME GRETZ"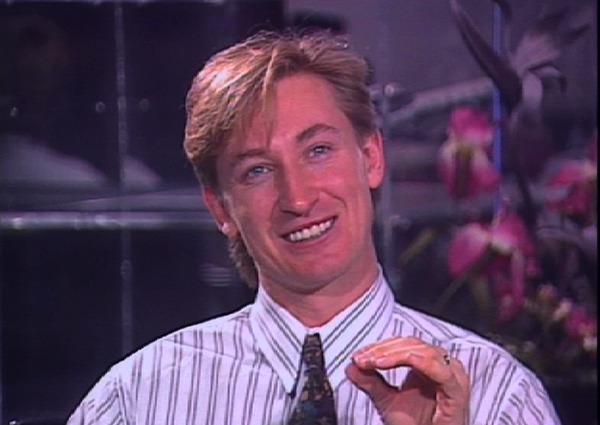 DONOHUE'S LEGENDS
The program was hosted by the late Jack Donohue and directed by Tom Aziz in 1991. Coach Donohue was renowned for his prowess as a guest speaker and for years he held court at the Great One's golf tournament in Brantford, Ontario. That's where the relationship between Jack and Walter Gretzky began; by the time we shot this episode of Donohue's Legends they had become the best of friends. Their chemistry together shines throughout the program. And yes, Walter asked Wayne to do the show and that's how we convinced #99 to be part of the documentary.
WALTER AND WAYNE GRETZKY
It's one of the most famous father /son relationships in the history of sports, Walter and Wayne from Brantford. To capture that story on camera was our goal. The problem was Wayne was in Los Angeles and Walter was at the Gretzky farm. But I am proud to say we pulled it off, creating a documentary where you get an inside look at their relationship. Revealing all about "the trade" from their perspective. We even give you the best seat in the Golds for a game at the Gretzky home.
WALTER GRETZKY TODAY
It is well known that in 1991, Walter suffered a stroke that destroyed his long-term memory. It's sad to say, but this is the last time Walter was interviewed when he still remembered all of his son's exploits. If you asked the crew of Donohue's Legends, the highlight was not meeting Wayne, or visiting California – it was meeting Walter, who lived up to all the hype.
AWARDS AND NOMINATIONS
This episode of Donohue's Legends was nominated for a Gemini in the Best Sports Program category. We lost out to the CBC coverage of the Barcelona Olympics. Talk about David and Goliath. However, the show did win a 1992 CanPro Gold Medal for best documentary.
Wayne said it best: "It's the best show I have ever seen on my family. It just made me feel good." We hope it does the same for you!